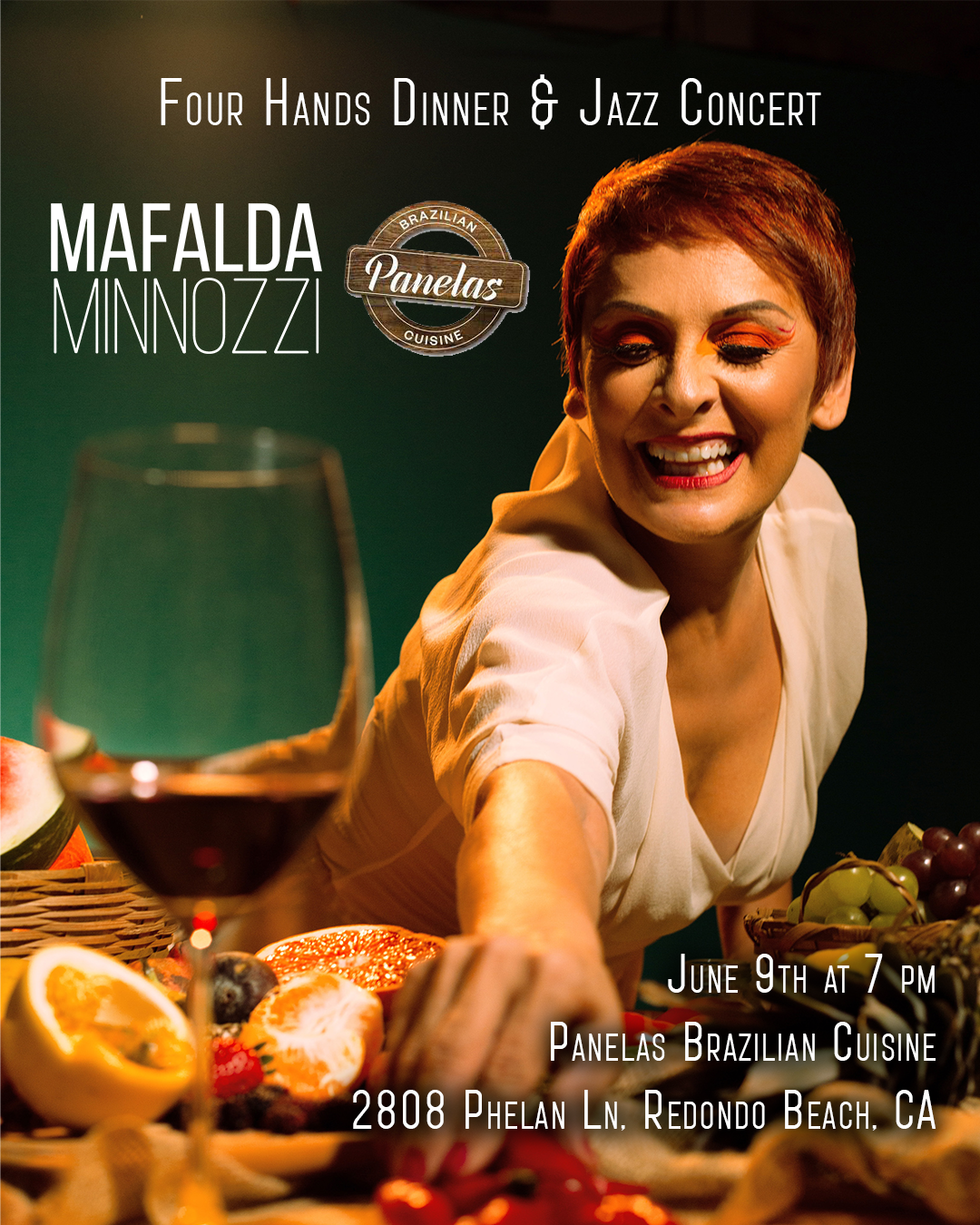 EVENT "FOUR HANDS DINNER & JAZZ CONCERT" LOS ANGELES, CA 🇺🇸

| | |
| --- | --- |
| | 09/06/2022 |
| | BRAZILIAN PANELAS CUISINE |
| | REDONDO BEACH, CALIFORNIA |
| | Google Map |
Thusday, June 9th, 2022 @ 7pm (PST)
FOUR HANDS DINNER & JAZZ CONCERT
Brazilian Panelas Cuisine
Mafalda sings and explores her second love of cooking on the way to her dream of her own restaurant (again).
It will be a "Big Night" with a few surprises.
Jazz Concert: EMPATHIA
eMPathia Jazz Duo, Mafalda Minnozzi on vocals and Paul Ricci on guitars
Singer Mafalda Minnozzi has spent her over 30 year touring and recording career between Italy, Brazil and NYC and most of that time in collaboration with her musical director and guitarist from NY, Paul Ricci. Some 8 years ago they decided to form the eMPathia Jazz Duo and their evolution together has led to 5 albums and hundreds of performances around the globe, often in collaboration with some of the finest musicians in their respective countries.
Both Minnozzi and Ricci have lived for many years in Brazil and have collaborated with Leny Andrade, Milton Nascimento, Guinga, André Mehmari, Astrud Gilberto (Ricci), Martinho Da Vila (Minnozzi) and a host of that country's top players, giving their unique arranging style a firm footing in the roots of Samba and Bossa while Mafalda's Roman cabaret experience permits her to take apart a Neopolitan or even a Piaf classic with rare command. Ricci's time as a sideman and fixture in the NY clubs in a variety of styles from Jazz, African, Brazilian and Latin, lends a great diversity to the acclaimed duo's sonic palette over their unique approach to the American, French, Brazilian, and Italian songbooks.
Look for them to draw from their many recordings together with Mafalda's most recent solo albums "Sensorial – Portraits in Bossa and Jazz" (2020) and "Cinema City – Jazz Scenes from Italian Film" (2022)
www.youtube.com/empathiajazzduo
www.youtube.com/mafaldaminnozzi