"SENSORIAL" – PORTRAITS IN BOSSA & JAZZ

| | |
| --- | --- |
| | 01/03/2020 |
| | BIRDLAND THEATER |
| | NEW YORK (NEW YORK, USA) |
| | Google Map |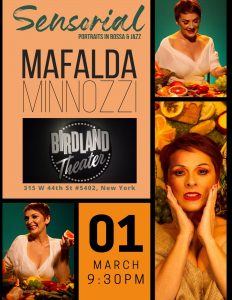 "SENSORIAL" PORTRAITS IN BOSSA & JAZZ
BIRDLAND THEATER
315 WEST 44 th ST
NEW YORK, NY
(212) 581-3080
9:45PM
***************************************************************
Join us at the Birdland Theater for Mafalda Minnozzi!
Mafalda Minnozzi is a powerhouse performer with a captivating style defined by her charismatic stage presence, vocal range and versatile timbral palette, blurring the line between singer and improviser, earning her a prestigious "Targa Tenco" nomination by the Italian press and a spot among the 10 best jazz vocalists in Italy's JAZZIT magazine for two years in a row.
She has released more than 20 CDs in her formidable 20 year plus career in Brazil that includes collaborations with Milton Nascimento, Leny Andrade, Guinga, André Mehmari and many others, giving her a deep and personal outlook on the Brazilian songbook for her own jazzy stamp in a melding of styles featuring the greatest composers of Brazil, Italy and America.
After performing at clubs, theaters and Jazz festivals in South America and Europe, her trajectory from Rome to Rio brings her back to the Birdland theater following her sold out performances in October and it promises to once again be a sensorial experience for all in the audience. At her side will be arranger and guitarist Paul Ricci along with the trio of Helio Alves – piano, Harvie S – bass and Victor Jones – drums.
From the great classics like "Estate" and the most popular Jobim songs like "Desafinado" and "Once I Loved", to some lesser known gems by Toninho Horta, Filó Machado and Paolo Conte, her unique interpretations and jazzy spontaneity put the listener in the front row of a club that could be in NY, Rome and Rio de Janeiro, or maybe somewhere where this music has yet to travel.
The carefully constructed arrangements provide her all star band with a sometimes fiery, sometimes times seductive and sensual, but always surprising sound that ranges from Bossa and Samba to Jazz, for an enriching experience that appeals to all the senses.
www.mafaldaminnozzi.com
www.facebook.com/mafaldaminnozziofficial/
www.instagram.com/mafaldaminnozziofficial/
"Mafalda Minnozzi, is an extraordinary performer. She dominates the stage with her fascinating scenic presence and her powerful and flexible voice, rich in a thousand nuances" – Gerlando Gatto (journalist, music critic and author of "L'Altra Metà del Jazz")
"Thanks to her experiences with jazz music in Brazil and Italy, both countries influence her way of singing … each interpretation is deep and sensitive. This is jazz for falling in love, the free flight of a bird in a great sky. "– Debbie Burke (blogger and jazz critic)
"She has a beautiful conception of each song and is a wonderful performer. I am fascinated by her way of improvising and interacting" – Gene Bertoncini (legendary NY jazz guitarist)
"…overflowing with interpretative choices, communicative appeal and strong artistic personality, the singer expertly handles the dynamics and projection with grace and deep emotional impact, suggesting a sort of imaginary bridge connecting Italy, the United States and Brazil…"– Stefano Dentice: Italian Jazz Critic at "ITALIAINJAZZ"
"…delivered the hottest show of the night… the Italian singer Mafalda Minnozzi and American guitarist Paul Ricci literally raised the audience with jazzy versions of classics."– Carlos Calado: Brazilian Jazz author and critic at "FOLHA de S.PAULO".
"… there were some revelations, for example the eMPathia duo composed of Paul Ricci and Mafalda Minnozzi… Fantastic!"– Humphrey Inzillo: Argentine Jazz critic and author at "LA NACION".