SHOW "FOTOGRAMMI TROPICALI" al PEPERONCINO JAZZ FESTIVAL NEW YORK SESSION 2023 | NEW YORK CITY, NY – USA 🇺🇸

| | |
| --- | --- |
| | 28/05/2023 |
| | ZINC JAZZ BAR |
| | NEW YORK CITY, NY - USA 🇺🇸 |
| | Google Map |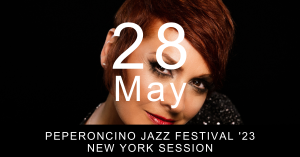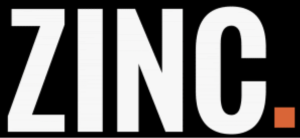 MAY
28th
ZINC
JAZZ BAR
Set. 4:00 pm
MAFALDA MINNOZZI "FOTOGRAMMI TROPICALI"
Mafalda Minnozzi | Voice
Paul Ricci | guitar
FREE ADMISSION
In "Tropical Photograms" – Scenes of Life and Music in Bossa & Jazz", Mafalda Minnozzi sings, for the "Peperoncino Jazz Festival New York Session" first time at the "Zinc Bar", about her life through the songs and composers who have accompanied and inspired her during her 35-year career.
In the new "tropical" version of the show, the repertoire is centered above all on Antonio Carlos Jobim, Baden Powell, Marcos Valle and Caetano Veloso, who marked the first years of experiences and collaborations of the singer in Brazil starting from her debut in 1996 at the historic music club "Paradiso" in Rio de Janeiro. Just as in a film, frame by frame, the artist builds her own soundtrack on stage, enriched by other "frames" dedicated to Cole Porter, Ennio Morricone and Bruno Martino that all fit perfectly into the musical mosaic of the show, thanks to the refined original arrangements. On this journey that takes the audience from "Águas de Março" to "Coraçäo Vagabundo", from "Nuovo Cinema Paradiso" to "Samba da Bênçâo" and to "Estate", Mafalda once again reveals her story that exuded passion and love for the art.
As usual, Mafalda will be joined by the great guitarist and arranger, Mo Paul Ricci.
Address: 82 W 3rd Street, NEW YORK, NY 10012 – (212) 477-9462
www.zincjazz.com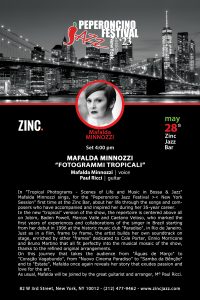 ————————————————————————————-
Management & Booking: MBM Management / MAMA Prod. Art
Marco Bisconti [email protected]
Mob / WhatsApp +39 338 7243261