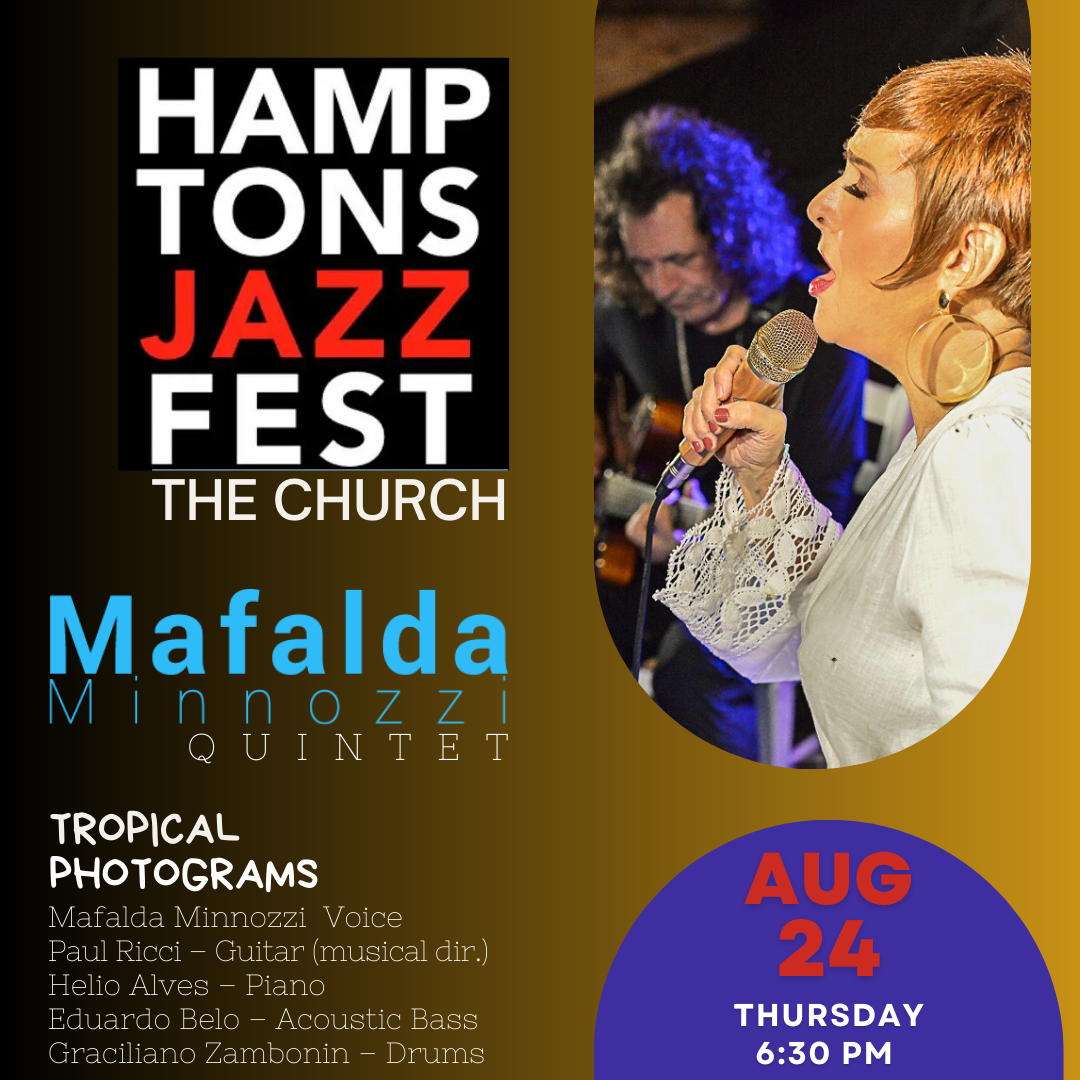 SHOW "TROPICAL PHOTOGRAMS" at HAMPTONS JAZZ FESTIVAL 2023 | SAG HARBOR, NY – USA 🇺🇸

| | |
| --- | --- |
| | 24/08/2023 |
| | THE CHURCH |
| | SAG HARBOR, NY - USA 🇺🇸 |
| | Google Map |
HAMPTONS JAZZ FESTIVAL 2023  
ℹ️  CLICK HERE FOR MORE INFORMATION
Mafalda Minnozzi & Paul Ricci Quintet
August 24, 2023
6:30 pm – 8:00 pm
The Church
TROPICAL PHOTOGRAMS
featuring Mafalda Minnozzi on vocals, Paul Ricci on guitars, Helio Alves on piano, Graciliano Zambonin drums and Eduardo Belo on bass.
"TROPICAL PHOTOGRAMS": Scenes from Life and Music 
Italian Singer Mafalda Minnozzi with her NY guitarist, Paul Ricci, have broken musical ground in Brazil, the US, and Europe with a long-running collaboration that has resulted in her notable solo career that often goes hand in hand with the great Brazilian songbook.
Her extensive career in Brazil and beyond, counts on collaborations with Milton Nascimento, Leny Andrade, Guinga, Roberto Menescal, Hugo Fattoruso, and André Mehmari, while Ricci was arranger for Astrud Gilberto and has played with Bebel Gilberto, Bobby Sanabria, Harry Belafonte, Mike Clark, Santi DeBriano, Michael Wolff and a cast of NY's finest. All this experience can be translated into a unique arranging style over eclectic classics from Brazil, Italy, France and the US, via her own improvisational language.
Aside from a possible surprise or two from her over 20 CD's, she and her Brazilian all-star band will perform selections from her soon to be released "NATURAL IMPRESSION" and her previous Brazilian CD "SENSORIAL" which can be found in rotation on WBGO Radio and other leading jazz stations around the country.
Mafalda's charismatic stage presence, vocal range, and versatile timbral palette blurs the line between singer and improviser, earning her a prestigious "Targa Tenco" nomination by the Italian press and several top 10 votes in Italy's prestigious JAZZIT awards.
Official Website:  www.mafaldaminnozzi.com
YouTube:  https://www.youtube.com/@mafaldaminnozzi
Instagram:  https://www.instagram.com/mafalda_minnozzi/
FB:  https://www.facebook.com/mafaldaminnozzi