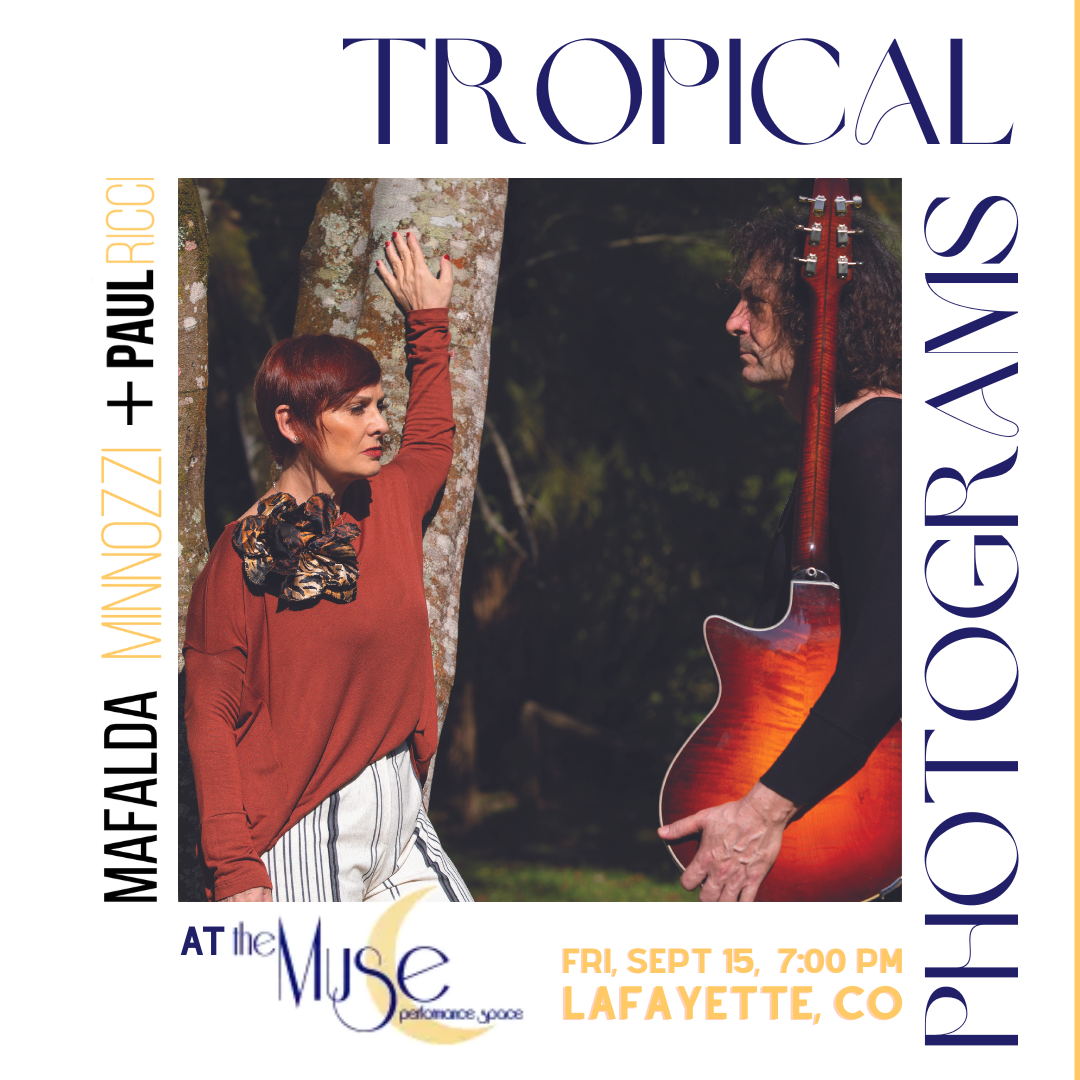 SHOW "TROPICAL PHOTOGRAMS at MUSE PERFORMANCE SPACE in LAFAYETTE, CO – USA 🇺🇸

| | |
| --- | --- |
| | 15/09/2023 |
| | MUSE PERFORMANCE SPACE |
| | LAFAYETTE, CO - USA 🇺🇸 |
| | Google Map |
Mafalda came up through Italy's great classic tradition from Rome's #1 cabaret "La Cabala" to RAI TV's #1 show "Uno Mattina". From 1996, a fateful invitation to Brazil resulted in her ongoing touring and recording career there, finding her onstage in major clubs, festivals, theaters and TV and in performance with Milton Nascimento, Guinga, Leny Andrade, and Roberto Menescal among many others while releasing some 25 albums.
Over the past 8 years, Mafalda has come to NY alongside her guitarist/arranger Paul Ricci to become a standout on Jazz radio and on the NY scene where, among other venues, they've played at Birdland, Mezzrow and NYU, and have recorded 4 CDs that feature John Patitucci, Don Byron, Rogerio Boccato, Helio Alves, Art Hirahara, Joe Locke and Michael Wolff and others.
Paul's played with many noted jazz players as well as with Astrud and Bebel Gilberto, Harry Belafonte, Bobby Sanabria, Coumba Sidibe and others from the Caribbean, Latin and African melting pot while also living in Brazil for 20+ years. As such, the duo brings an unprecedented command to the amalgam of Bossa with classic world songbooks for a virtuosic and exciting interplay in one global jazz style
SYNOPSIS OF THE SHOW "TROPICAL PHOTOGRAMS"
In "TROPICAL PHOTOGRAMS – Scenes of life and music in bossa & jazz", Mafalda Minnozzi sings about her life through the songs and composers who have accompanied and inspired her during her 35-year career. In the new "tropical" version of the show, the repertoire draws from her latest release "Natural Impression" and is centered above all on Jobim, Baden Powell, Marcos Valle and Caetano Veloso, who marked the first years of experiences and collaborations of the singer in Brazil starting from her debut at the "Paradiso", historic music club in Rio de Janeiro in 1996.
Like in a film, frame by frame, the artist builds her own soundtrack on stage, enriched by other "frames" dedicated to Cole Porter, Ennio Morricone and Bruno Martino that fit perfectly into the musical mosaic of the show thanks to the refined original arrangements.
In this journey that takes the audience from "Águas de Março" to "Coração Vagabundo", from "My Shining Hour" to "Tu Si 'Na Cosa Grande", and from "Samba da Bênção" to "Estate", Mafalda once again reveals her story that exudes passion and love for the art.