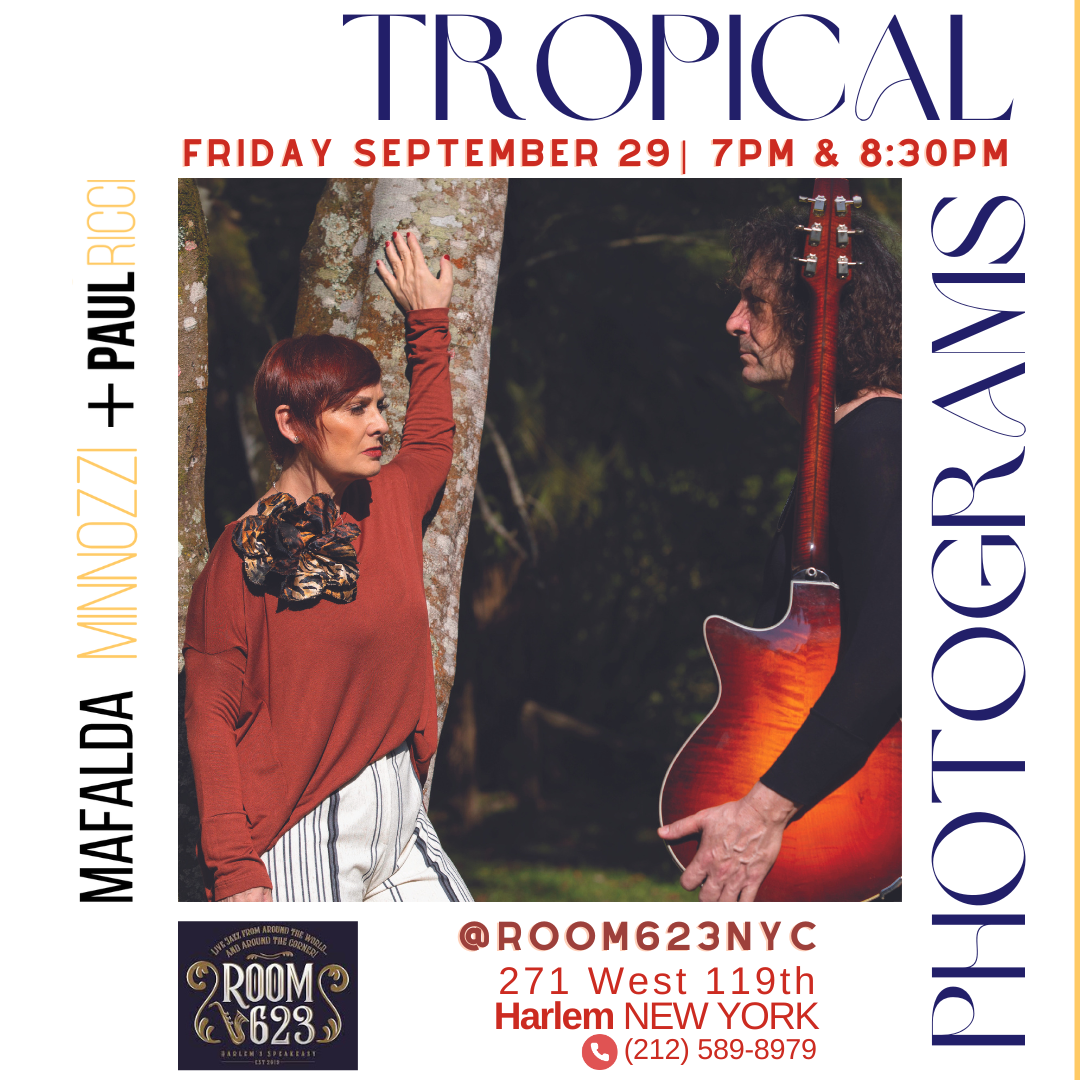 SHOW "TROPICAL PHOTOGRAMS" at ROOM 623: HARLEM'S SPEAKEASY | NEW YORK CITY, NY – USA 🇺🇸

| | |
| --- | --- |
| | 29/09/2023 |
| | ROOM 623: HARLEM'S SPEAKEASY |
| | NEW YORK CITY, NY - USA 🇺🇸 |
| | Google Map |
where: ROOM 623: HARLEM'S SPEAKEASY
Friday, September 29th 2023
TWO SETS AT: 7pm & 8:30pm
Room 623 – Harlem's Speakeasy
271 W. 119th St. (btwn Frederick Douglass & St. Nick)
☎️ 212. 589. 8979
Full calendar, tix & livestream: Room623.com
@room623nyc / #lookforthebluelight
Join us for "TROPICAL PHOTOGRAMS":  Scenes from Life and Music by Mafalda Minnozzi featuring Paul Ricci on guitar. 
About this event:
In "TROPICAL PHOTOGRAMS" Mafalda Minnozzi returns to the "Room 623" with scenes and songs from her life via the composers who accompanied and inspired her during her 35 year career in Brazil, Italy, and beyond. Just as in a movie, frame after frame, she presents an intimate soundtrack that can seduce the audience into becoming co-stars in the same film.
With a jazz sensibility Mafalda taps into both her acclaimed Brazilian album "Sensorial – Portraits in Bossa and Jazz"" and "Cinema City – Jazz Scenes From Italian Film", both produced and arranged by guitarist Paul Ricci whose unique finger style approach to  Bossa and Jazz is full of surprises.
Mafalda will present diverse selections such as Ennio Morricone's "Metti Una Sera A Cena" to Jobim's "Águas de Março", from Bruno Martino's "Estate" to Django Reinhart's "Nuages", all together with some Cole Porter and Piaf to unify the world's great songbooks in Mafalda's very personal improvisational styling and passionate interplay with the guitar.
www.youtube.com/mafaldaminnozzi
Mafalda Minnozzi – vocals
Paul Ricci – guitars